Female Box Lacrosse players needed
---
---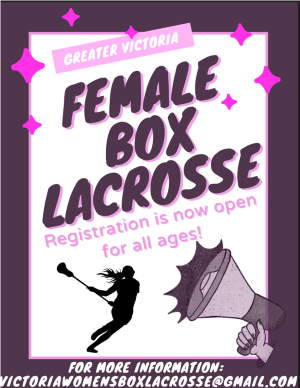 The Greater Victoria Female Box Lacrosse league is looking for players!
The 2023 season will look different for Female Box Lacrosse players from VELA, PenLax, JDF, and SLA. All Female divisions will be hosted at Victoria-Esquimalt. The four local associations came together to form this agreement in a united effort to increase player numbers, organize fundraising, and create consistency. The goal is to establish a unique identity for our girls by establishing a solid foundation for growth and development.
Registration for players born in 2011 and older is now open. You must register with your catchment, so register with JDF if this is where you live. There will be an option on the registration to select the female box league.
We strongly encourage you to volunteer. Female lacrosse needs your help. We'd love to have player volunteers on board as we work to grow the league. Your insight and experience is invaluable.
Send an email to victoriawomensboxlacrosse@gmail.com if you have questions about volunteer opportunities or about Female Box lacrosse in general!