Female Field Lacrosse
---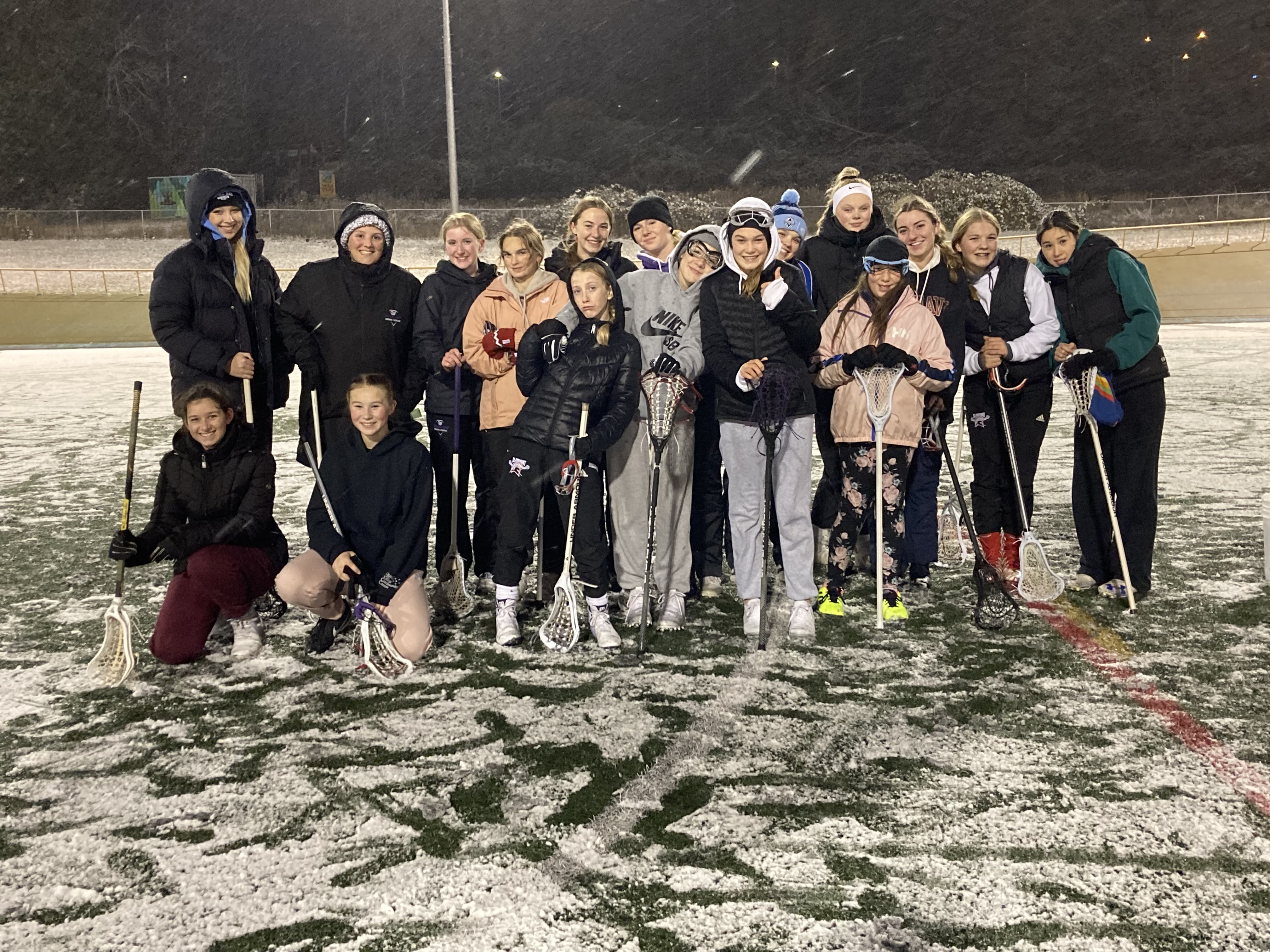 Lacrosse is a fast-paced and hard-hitting sport that sets itself apart with unique mechanics. With fundamental indigenous roots, lacrosse was Canada's only National Sport from 1867-1994. Gameplay is similar to hockey, with two teams competing to score in their opponent's goal, but unlike any other game, players use a netted stick to pass and shoot a ball. Lacrosse requires skill and accuracy, but also an incredible amount of stamina. Lacrosse is played outdoors on soccer sized fields from September to February.
Registration begins in July. Training will begin in September.
FAQ
Do we play in all weather?
Yes, the elements for field lacrosse do have exposure to rain. Games/practices will be cancelled due to freezing rain, snow, or turf freezing. We will play on in rain or even sunshine! That being said, unlike box lacrosse, we recommend you have your child's gear stored in a Rubbermaid tote so dry wear (jackets, etc) is protected while they play so they have something warm to change into.
When are practices and games?
This season we have ALL of our PRACTICE times at the JDF Velodrome Turf located at 1767 Island Hwy, Victoria, BC V9B 1J1. Practice days may be either Mondays, Tuesdays, or Wednesdays which will be allocated solely for PRACTICES. Times for each team's practices will be allocated when we confirm how many teams we have. Register early and it helps us with our information.
HOME GAMES for female division teams will be at the JDF Velodrome Turf located at 1767 Island Hwy, Victoria, BC V9B 1J1
AWAY GAMES will be whenever other teams have field time. For female division teams, most games are on Saturdays with the odd Sunday game.
TOURNAMENTS may happen and are mostly weekend events.
What is your player release policy?
Players must register in their home association first unless otherwise noted!
The Vancouver Island Field Lacrosse League (VIFLL) our governing body for field lacrosse on the Island, will not allow any player to be released from an association until there are a maximum of 25 players registered on any one team.
The VIFLL does not release based on the calibre of the player. For example, if you are the 26th player to register for the U15 Tier 1 team, there is a good possibility that you may be released to a club that does not have a Tier 1 team. Most likely the league will release you to an association needing players for their Tier 2 teams. The league's approach is to move players to where other clubs need to fill their team rosters. Usually all clubs' Tier 1 teams are full before releases are made.
The VIFLL also does not allow released players to decide which club they want to play for. There is no guarantee where a player may end up when released, as it all depends on which club needs players to fill team rosters. The league does not take into consideration where a player lives and where they have to commute.
In stating these rules passed down to all associations by the VIFLL, please be aware and prepared!
Privacy Policy
All information collected during registration will only be used by my local lacrosse association and the British Columbia Lacrosse Association for registration purposes. The information collected will not be shared with any parties outside of the BC Lacrosse Association and its members.
The KidSport™ Fund
The KidSport™ Fund is a program of Sport BC designed to "remove the financial obstacles that prevent underprivileged children from playing sport in British Columbia". Each child aged 6-18 who applies is eligible for up to $300 for one season of sport. The grant is provided directly to the club or sport organization.
Jumpstart
Jumpstart is a national charity supported by Canadian Tire Corporation with a commitment to sports in local communities. Children can be funded for successive seasons in a sport up to a maximum of $300 per sport; subject to Chapter discretion and/or local demands. The annual maximum is $600; again, subject to Chapter discretion and/or local demands.
For more information on funding assistance programs, click here.
For more information about field lacrosse click here.
For more information on Field Lacrosse equipment and resources, click here
Uniforms
Uniforms are supplied for all players for the season with a deposit of $100 per jersey.
Please keep in mind that uniforms are a big expense for JDF and taking proper care of them is extremely important.
These uniforms are only being loaned out to the players and do not belong to our players. Therefore players should not be wearing the club uniform for purposes other than lacrosse games. If players are unable to comply, the jerseys will be collected and distributed before and after each game.
DO NOT WEAR YOUR JERSEY FOR PRACTICES!
Proper care of uniforms:
Uniforms must be washed inside out and hung to dry
Please do not put uniform in the dryer
Please do not cut the tags off the uniforms
Uniforms are to be worn for games only
Shorts can be purchased by players for $25 per pair. If purchasing, please select the size for your child's shorts on your online registration.
Meet your Female Field Lacrosse Coaches here!
Here are some helpful videos!
Across the Body - Checking the body - https://youtu.be/G47kQ_8Z7bE
Block/Illegal Pick - https://youtu.be/r5tCab40Pdk
Charge: https://youtu.be/2aeSffzomEQ
Detain: https://youtu.be/eRj2gQKUcTA
Pushing/Dangerous Play: https://youtu.be/Wf2KYMQBU4M
Trip: https://youtu.be/XRiE-xe6c-U
Shooting space: https://youtu.be/hdih4uM0AYs
Three Seconds: https://youtu.be/V8dM0zFH1yQ
Check to the Head https://youtu.be/v0PG30-8tVE
Dangerous follow Through : https://youtu.be/GA_GnnRZuYQ
Dangerous Propel: https://youtu.be/BjYxGt43tEY
Swipe: https://youtu.be/3H0PqZ2SKdo
Dangerous Play: https://youtu.be/nFZNWVIZGPc